Acahual (MH509r)
Glyph or Iconographic Image Description:
This black-line drawing of the simplex glyph for the personal name Acahual (here, attested as a man's name) shows eight blades of grass [acahual(li)] that are connected at the bottom.
Added Analysis:
The gloss provides the information that these are dry grasses (acahualli), which Molina conveys were an important fuel for ovens. The more common term for grasses (especially for fodder, for instance) is zacatl.
Gloss Diplomatic Transcription:
Date of Manuscript (incl coverage):
Cultural Content (subjects):
Cultural Content, Credit:
Jeff Haskett-Wood and Stephanie Wood
Glyph or Iconographic Image: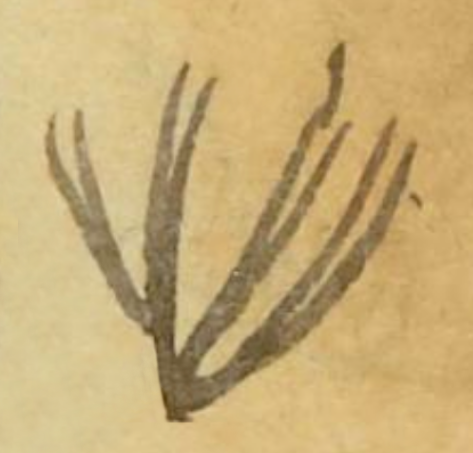 Relevant Nahuatl Dictionary Word(s):
Glyph/Icon Name, Spanish Translation:
Spanish Translation, Credit:
Image Source, Rights:
This manuscript is hosted by the Library of Congress and the World Digital Library; used here with the Creative Commons, "Attribution-NonCommercial-ShareAlike 3.0 License" (CC-BY-NC-SAq 3.0).
Historical Contextualizing Image: