acalli (Azca8)
Glyph or Iconographic Image Description:
This example of iconography is intended to provide a comparison for the glyph called acalli (boat). It is a boat that has a raised bow and stern. It may be flat-bottomed, as the person is standing while punting or paddling to move it forward. The paddle is long with a wide piece at the water end. Both the boat and the paddle are painted red. The man doing the paddling wears only a loincloth. His head is in profile (facing right), but his body is in a frontal view. His hair is long down his back, but it is tied with a red binding, the ends of which are fluttering in what may be a breeze. The man and boat are surrounded by swirls apparently meant to be water.
Date of Manuscript (incl coverage):
post-1550, but content about the migration from Aztlan to about 1527
Cultural Content (subjects):
Cultural Content, Credit:
Glyph or Iconographic Image: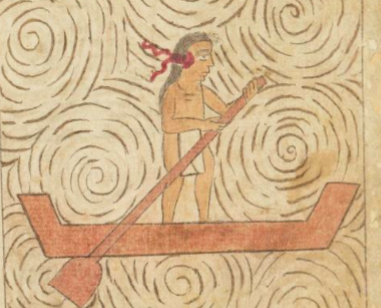 Relevant Nahuatl Dictionary Word(s):
Glyph/Icon Name, Spanish Translation:
Image Source, Rights:
The Library of Congress is "unaware of any copyright or other restrictions in the World Digital Library Collection." But please cite Bibliothèque Nationale de France and this Visual Lexicon of Aztec Hieroglyphs.
Historical Contextualizing Image: