Cuauhnenemi (MH499v)
Glyph or Iconographic Image Description:
This black-line drawing of the simplex glyph for the personal name Cuauhnenemi ("The Eagle Travels," attested here as a man's name) shows a bird's eye view of two, alternating, descending footprints. They are going toward the viewer's lower right. The Cuauh- start to the name (which can mean Eagle or Tree/Wood) is not attested visually.
Added Analysis:
While the reference may be to an eagle, the footprints imply movement across or downward toward a landscape. Human footprints can represent a large number of Nahuatl terms, including nouns, verbs, and more.
Gloss Diplomatic Transcription:
Date of Manuscript (incl coverage):
Cultural Content (subjects):
Cultural Content, Credit:
Glyph or Iconographic Image: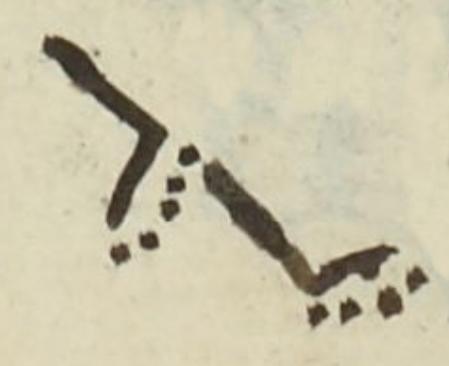 Relevant Nahuatl Dictionary Word(s):
Image Source, Rights:
This manuscript is hosted by the Library of Congress and the World Digital Library; used here with the Creative Commons, "Attribution-NonCommercial-ShareAlike 3.0 License" (CC-BY-NC-SAq 3.0).
Historical Contextualizing Image: