popoyotl (MH546v)
Glyph or Iconographic Image Description:
This black-line drawing of the simplex glyph for a blind person (popoyotl) shows the head of a man in profile, looking toward the viewer's right. He has a standard haircut. It is difficult to tell if his visible eye is open or closed, but two black horizontal bands run across his face, one over his eye and nose and another one above that. These lines are indicating a loss of sight, a disability.
Added Analysis:
The gloss says, "here are the blind people." This glyph is just one blind person out of at least two. It is sad to think that there were at least two blind people in one small community. One wonders if the epidemics that ravaged early Mexico left people blinded. One cause of blindness is trachoma. Mexico eliminated this disease in recent years, according to the Pan American Health Organization. (See: https://www3.paho.org/hq/index.php?option=com_content&view=article&id=13...)
Gloss Diplomatic Transcription:
Gloss Normalization:
iz cate in popoyome [or, iz cateh in popoyomeh, with the glottal stops)
Date of Manuscript (incl coverage):
Cultural Content (subjects):
Cultural Content, Credit:
Keywords:
ciegos, ceguera, falta de vista
Glyph or Iconographic Image: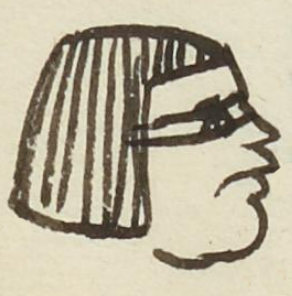 Relevant Nahuatl Dictionary Word(s):
Glyph/Icon Name, Spanish Translation:
Spanish Translation, Credit:
Image Source, Rights:
This manuscript is hosted by the Library of Congress and the World Digital Library; used here with the Creative Commons, "Attribution-NonCommercial-ShareAlike 3.0 License" (CC-BY-NC-SAq 3.0).
Historical Contextualizing Image: